Research areas
The staff of the laboratory provides research services and technology transfer in the following macro-areas:
Management and control of complex systems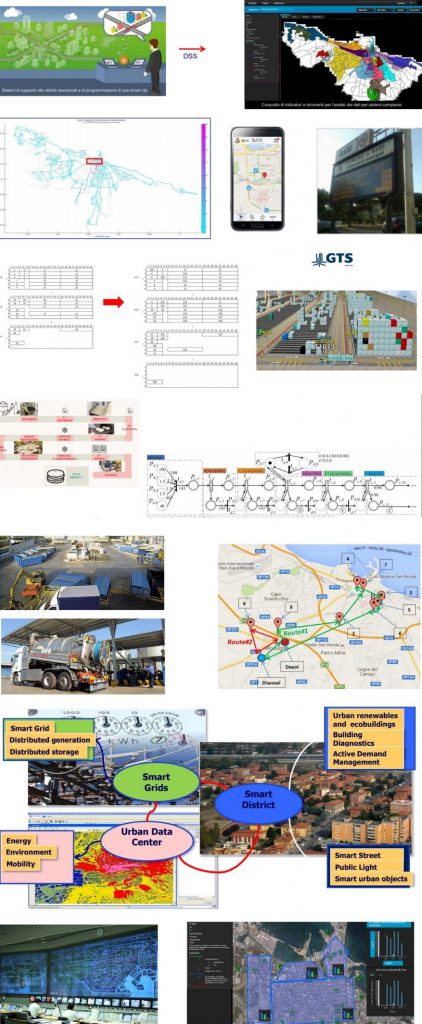 Advanced algorithms and ICT applications to predict and solve upcoming situations in various applicative contexts (transport, production, health systems) with minimal or reduced human involvement.
Decentralized and distributed control and optimization for large scale systems
Decision Support Systems for planning and management of Intelligent transportation systems, road and railroad traffic,dangerous freight transport.
Management and optimization of electrical mobility,
Decision Support Systems for the planning and management of Smart Cities and smart buildings;
Modelling and management of healthcare systems.
Modeling, simulation, and control of container terminals and mono and multi-modal logistic systems.
Modelling, control and optimization for industrial applications
Re-engineering and automation of manufacturing processes and systems.
Coordination of agents and sensors networks.
Fault detection and recovery.
Problems regarding the logistics area, production and distribution.
Scheduling and planning problems, workflow management.
Models for maximizing the effectiveness of technological products and processes.
Methods for the reduction of alternatives, particularly in case of high quantity of choices.
Management and control of energy systems
Strategic level: analysis and decision tools to support the urban policy maker in determining the optimal action plans for long-term energy efficiency in the following areas: building and building grids sectors, public street lighting sector, integrated management of urban energy systems.
Operational level: solutions for the control and scheduling of the energy activities of smart energy users, optimal planning of the energy activities of a smart home, networks of smart homes, management of the optimal charging of electric vehicles.
Publications
The scientific production of the lab is available at: https://www.scopus.com/authid/detail.uri?authorId=6603204493
2021
2020
2019
2018
2017
2016
2015
2014
2013
2012
Costantino, N., Dotoli, M., Epicoco, N., Falagario, M. & Sciancalepore, F. (2012)

A cross efficiency fuzzy data envelopment analysis technique for supplier evaluation under uncertainty

IN

IEEE International Conference on Emerging Technologies and Factory Automation, ETFA

..
[Bibtex]

@CONFERENCE{Costantino2012,
author={Costantino, N. and Dotoli, M. and Epicoco, N. and Falagario, M. and Sciancalepore, F.},
title={A cross efficiency fuzzy data envelopment analysis technique for supplier evaluation under uncertainty},
journal={IEEE International Conference on Emerging Technologies and Factory Automation, ETFA},
year={2012},
doi={10.1109/ETFA.2012.6489600},
art_number={6489600},
note={cited By 7},
url={https://www.scopus.com/inward/record.uri?eid=2-s2.0-84876391183&doi=10.1109%2fETFA.2012.6489600&partnerID=40&md5=b3dd1395d6852890b4f3d746d87b1632},
abstract={We present a novel cross efficiency fuzzy Data Envelopment Analysis (DEA) technique for supplier selection under uncertainty. In order to deal with uncertain input and output suppliers data, triangular fuzzy numbers are employed. A fuzzy triangular efficiency is associated to each supplier through a cross evaluation by a compromise between objectives. The results are defuzzified and a supplier ranking is determined. The method is applied to the evaluation of a set of candidate suppliers of an Italian SME, showing the ease of application and discriminative power among suppliers. © 2012 IEEE.},
keywords={Cross efficiency; Cross evaluation; Discriminative power; Fuzzy data envelopment analysis; Input and outputs; Supplier Evaluations; Supplier selection; Triangular fuzzy numbers, Data envelopment analysis; Factory automation; Fuzzy sets, Efficiency},
references={Charnes, A., Cooper, W.W., Rhodes, E., Measuring the efficiency of decision making units (1978) European Journal of Operational Research, 2, pp. 429-444; Costantino, N., Dotoli, M., Falagario, M., Fanti, M.P., Mangini, A.M., Sciancalepore, F., Ukovich, W., A fuzzy programming approach for the strategic design of distribution networks (2011) Proc. IEEE Conf. on Automation Science and Engineering (CASE), Trieste (Italy), , 24-27 August; Costantino, N., Dotoli, M., Falagario, M., Fanti, M.P., Mangini, A.M., Sciancalepore, F., Supplier selection in the public procurement sector via a data envelopment analysis approach (2011) Proc. 19th Annual IEEE Mediterranean Conf.E on Control and Automation (MED 2011), Corfu, Greece, , June 23-25; Costantino, N., Dotoli, M., Falagario, M., Sciancalepore, F., A model using data envelopment analysis for the cross evaluation of suppliers under uncertainty (2011) Proc. Int. Conf. on Knowledge Management and Information Sharing (KMIS 2011), Paris, France, , October 26-29; De Boer, L., Labro, E., Morlacchi, P., A review of methods supporting supplier selection (2001) European Journal of Purchasing and Supply Management, 7, pp. 75-89; Guo, P., Tanaka, H., Fuzzy dea: A perceptual evaluation method (2001) Fuzzy Sets and Systems, 119 (1), pp. 149-160; Hatami-Marbini, A., Saati, S., Makui, A., Ideal and anti-ideal decision making units: A fuzzy dea approach (2010) Journal of Industrial Engineering International, 6 (10), pp. 31-41; Hatami-Marbini, A., Emrouznejad, A., Tavana, M., A taxonomy and review of the fuzzy data envelopment analysis literature: Two decades in the making (2011) European Journal of Operational Research, 214, pp. 457-472; Ho, W., Xu, X., Dey, P.K., Multi-criteria decision making approaches for supplier evaluation and selection: A literature review European Journal of Operational Research, 202, pp. 16-24; Jimenez, M., Bilbao, A., Pareto-optimal solution in fuzzy multiobjective linear programming (2009) Fuzzy Sets and Systems, 160, pp. 2714-2721; Kabak, Ö., Ülengin, F., Possibilistic linear-programming approach for supply chain networking decisions (2011) European Journal of Operational Research, 209, pp. 253-264; Khodabakhshi, M., Gholami, Y., Kheirollahi, H., An additive model approach for estimating returns to scale in imprecise data envelopment analysis Applied Mathematical Modelling, 34, pp. 1247-1257; Leon, T., Liern, V., Ruiz, J.L., Sirvent, I., A fuzzy mathematical programming approach to the assessment of efficiency with dea models (2003) Fuzzy Sets and Systems, 139 (2), pp. 407-419; Lertworasirikul, S., Fang, S.C., Joines, J.A., Nuttle, H.L.W., Fuzzy data envelopment analysis (dea): A possibility approach (2003) Fuzzy Sets and Systems, 139 (2), pp. 379-394; Lertworasirikul, S., Fang, S.C., Joines, J.A., Nuttle, H.L.W., Fuzzy data envelopment analysis (fuzzy dea): A credibility approach (2003) Fuzzy Sets Based Heuristics for Optimization, Physica Verlag, pp. 141-158. , Verdegay, J.L. (Ed.); Li, L., Zabinsky, Z.B., Incorporating uncertainty into a supplier selection problem (2011) International Journal of Production Economics, 134, pp. 344-356; Liang, T.-F., Application of fuzzy sets to manufacturing/distribution planning decisions in supply chains (2011) Information Science, 181, pp. 842-854; Luban, F., Measuring efficiency of a hierarchical organization with fuzzy dea method (2009) Economia, Seria Management, 12 (1), pp. 87-97; Owens Swift, C., Preferences for single sourcing and supplier selection criteria (1995) J. Bus. Res., 32, pp. 105-111; Pfohl, H.-C., Köhler, H., Thomas, D., State of the art in supply chain risk management research: Empirical and conceptual findings and a roadmap for the implementation in practice (2010) Logistics Research, 2, pp. 33-44; Qin, R., Liu, Y.K., A new data envelopment analysis model with fuzzy random inputs and outputs (2009) Journal of Applied Mathematics and Computing, 33 (1-2), pp. 327-356; Qin, R., Liu, Y.K., Modeling data envelopment analysis by chance method in hybrid uncertain environments (2010) Mathematics and Computers in Simulation, 80 (5), pp. 922-950; Sengupta, J.K., A fuzzy systems approach in data envelopment analysis (1992) Computers and Mathematics with Applications, 24 (8-9), pp. 259-266; Sheth, N., Triantis, K., Measuring and evaluating efficiency and effectiveness using goal programming and data envelopment analysis in a fuzzy environment (2003) Yugoslav Journal of Operations Research, 13 (1), pp. 35-60; Soleimani-Damaneh, M., Jahanshahloo, G.R., Abbasbandy, S., Computational and theoretical pitfalls in some current performance measurement techniques and a new approach Applied Mathematics and Computation, 181 (2), pp. 1199-1207; Tsaur, S.-H., Chang, T.-Y., Yen, C.-H., The evaluation of airline service quality by fuzzy mcdm (2002) Tourism Management, 23, pp. 107-115; Ufuk Bilsel, R., Ravindran, A., A multiobjective chance constrained programming model for supplier selection under uncertainty (2011) Transportation Research Part B: Methodological, 45 (8), pp. 1284-1300; Wang, Y.M., Luo, Y., Liang, L., Fuzzy data envelopment analysis based upon fuzzy arithmetic with an application to performance assessment of manufacturing enterprises (2009) Expert Systems with Applications, 36, pp. 5205-5211; Wen, M., You, C., Kang, R., A new ranking method to fuzzy data envelopment analysis (2011) Computers & Mathematics with Applications, 59 (11), pp. 3398-3404; Zhang, X., Zhang, L., Supplier selection and purchase problem with fixed cost and constrained order quantities under stochastic demand (2011) International Journal of Production Economics, 129 (1), pp. 1-7; Zimmermann, H.-J., (2001) Fuzzy Set Theory and Its Applications, , 4th Ed, Kluwer Academic Publishers, Boston/Dordrecht/London; Araz, C., Ozkarahan, I., Supplier evaluation and management system for strategic sourcing based on a new multicriteria sorting procedure (2007) International Journal of Production Economics, 106, pp. 585-606; Sexton, T.R., Silkman, R.H., Hogan, A.J., Data envelopment analysis: Critique and extensions (1986) Measuring Efficiency: An Assessment of Data Envelopment Analysis, , Silkman, R.H. (Ed.), Jossey- Bass, San Francisco, CA; Wang, J.M., Chin, K.S., A neutral dea model for cross-efficiency evaluation and its extension (2010) Expert Systems with Applications, 37, pp. 3666-3675; Doyle, J., Green, R., Efficiency and cross-efficiency in dea: Derivation, meanings and uses (1994) Journal of Operational Research Society, 45, pp. 567-578; Costantino, N., Dotoli, M., Epicoco, N., Falagario, M., Sciancalepore, F., A novel fuzzy data envelopment analysis methodology for performance evaluation in a two-stage supply chain (2012) Proc. 8th Annual IEEE Conference on Automation Science and Engineering (CASE 2012), Seoul, Korea, , August 20-24; Gnu Linear Programming Kit, , http://www.gnu.org/software/glpk/glpk.html, available at},
document_type={Conference Paper},
source={Scopus},
}

Cabasino, M. P., Dotoli, M. & Seatzu, C. (2012)

Marking estimation of fuzzy Petri nets

IN

IEEE International Conference on Emerging Technologies and Factory Automation, ETFA

..
[Bibtex]

@CONFERENCE{Cabasino2012,
author={Cabasino, M.P. and Dotoli, M. and Seatzu, C.},
title={Marking estimation of fuzzy Petri nets},
journal={IEEE International Conference on Emerging Technologies and Factory Automation, ETFA},
year={2012},
doi={10.1109/ETFA.2012.6489737},
art_number={6489737},
note={cited By 0},
url={https://www.scopus.com/inward/record.uri?eid=2-s2.0-84876358726&doi=10.1109%2fETFA.2012.6489737&partnerID=40&md5=8dfebfd27061e28bf211aaa621c20559},
abstract={In this paper we deal with the problem of designing an observer for Petri nets under the assumption that all transitions may be observed but there exist some uncertainties in the initial marking. In particular, the information on the initial marking is given in terms of fuzzy markings by associating a discrete membership function with each place. Some ideas on how to extend the proposed approach to the case of unobservable transitions are also discussed. © 2012 IEEE.},
keywords={Fuzzy Petri nets; Initial marking; Marking estimation; Unobservable, Factory automation, Petri nets},
references={Ammar, H., Yu, L., Fuzzy marking petri nets: Concepts and definitions (1995) Proc. IEEE Int. Symposium on Intelligent Control, pp. 291-297. , Aug; Cabasino, M., Giua, A., Pocci, M., Seatzu, C., Discrete event diagnosis using labeled petri nets (2011) An Application to Manufacturing Systems. Control Engineering Practice, 19 (9), pp. 989-1001; Giua, A., Seatzu, C., Observability of place/transition nets (2012) IEEE Trans. on Aut. Control, 47 (9), pp. 1424-1437; González-Castolo, J., López-Mellado, E., State estimation of partially observable des using fuzzy timed petri nets (2011) Proc. IEEE 16th Conf. on Emerging Tech. & Factory Automation, pp. 1-8. , Toulouse, France, Sept; Z.L.A. fuzzy sets as a basis for a theory of possibility (1978) Fuzzy Sets and Systems, 1, pp. 3-28. , Reprinted in Fuzzy Sets and Systems 100 Supplement 9-34