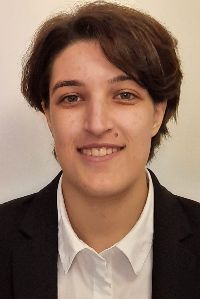 Informazioni
ti.ab1686154996ilop.1686154996itned1686154996uts@11686154996allet1686154996s.s1686154996
Curriculum Vitae (english)
Silvia STELLA
Research assistant
Silvia Stella received the Bachelor's Degree in Computer and Automation Engineering in 2021 from Polytechnic of Bari, Italy.
She's currently pursuing the Master's degree in Automation Engineering with specialization in Robotics and carrying out research activities through a Postgraduate Research Scholarship in cooperation with the Public-Private laboratory "Cognitive Diagnostics – Accordo_Comau_LPP" between Comau S.p.A. and Polytechnic of Bari.
Her research interests include decision and control techniques for handling robotic arms.
---