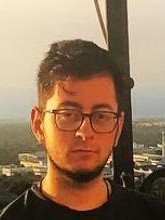 ---
Short Bio
Giorgio Troccoli was born in Bari (BA) in August 1995. He studied at Politecnico di Bari where she obtained the Bachelor Degree Computer Science and Automation Engineering in October 2018. In December 2020 he got his Master Degree in Automation Engineering with a thesis in "Innovative control algorithms for the optimal load in means of transport for logistics 4.0 " in cooperation with the Public-private laboratory IoT 4.0 of Politecnico di Bari.
He is currently working toward the post-graduate grant for the conduct of study and research activities concerning:
"Optimization and Control algorithms for the Container Loading Problem" in the context of the partnership agreement for the establishment of the Public-Private Laboratory "IOT 4.0" (LPPI-4.0) between ELETTRIC80 SP, SM.I.L.E 80 SRL, ISIRES – ORGANISMO DI RICERCA S.R.L. and POLYTECHNIC OF BARI, of which the scientific responsible is Prof.ssa Ing. Mariagrazia Dotoli.